SNEAK-A-PEEK July 2, 2020
Today, we're just getting started! A little bit of a #throwback to 2019, along with our first Virtual Stampede Deal on our Mulberry Silk Bedding! Fair food-inspired recipes start tomorrow. Come on back to this post daily for more deals and drool-worthy recipes!!!
You can also follow us on Facebook and/or Instagram for much more.
P.S. we have a huge Customer Appreciation Contest running on Instagram right now. Follow us there to get in on the action. DON'T MISS OUT!!!
#TBT Ocean Sales TV YouTube video below...
Oh yes, today is off to a great start!
Chad began the day for us cooking up some pancakes on the BBQ using our Miracle Grill Mats. Who knew you could cook pancakes, with such ease, on the grill? See today's story on Instagram or Facebook to watch Chad in action.
Speaking of pancakes, here's a classic recipe from a member of our team, Krystlle. She recently had fun cooking up all sorts of Calgary Stampede traditions, along with a ton of Midway-inspired treats. Each day we will add another recipe from her -- thanks Krystlle!!!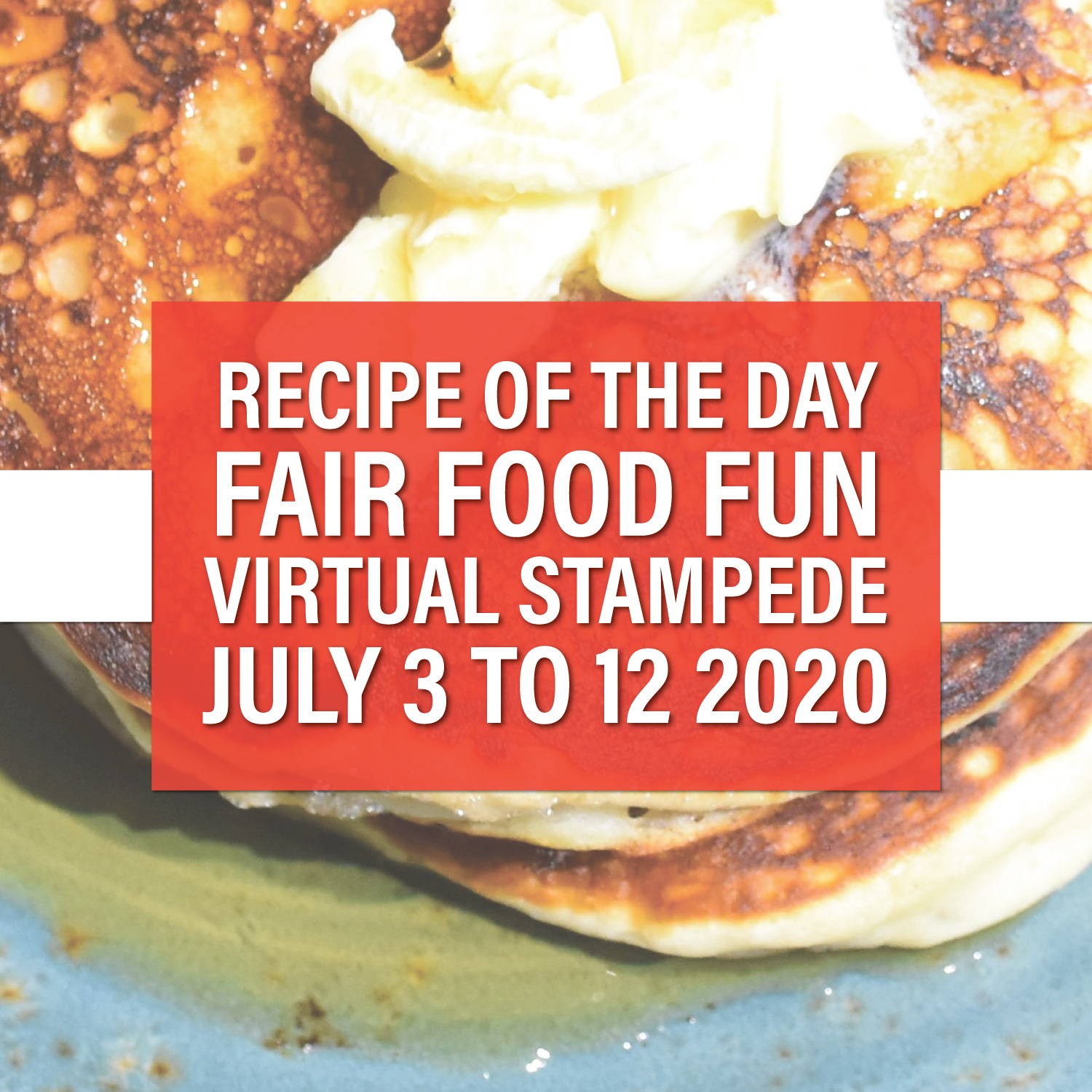 Pancake breakfasts are a big thing in Calgary at this time of year. ENJOY!
Classic Pancakes
INGREDIENTS:
• 1 cup milk
• ½ cup sour cream
• ¼ cup white sugar
• 2 eggs
• 1 tsp vanilla extract
• 1 ½ cups flour (white or whole wheat)
• 2 tsp baking powder
• 1 tsp salt
• Butter for greasing the pan
DIRECTIONS:
• In a bowl add milk, sour cream, sugar, eggs, and vanilla. Whisk together.
• Add flour, baking powder and salt. Stir until no large clumps remain but do not over mix. If the batter seems to thick, add in a bit more milk.
• Melt ½ tbsp butter in a large non-stick frying pan over medium-low heat until butter turns a light brown.
• Ladle ¼ cup of batter for each pancake into the hot frying pan. Cook 3-4 minutes, until little bubbles begin to form on the top of each pancake and the bottoms are golden.
• Flip pancakes and cook for additional 1-2 minutes, until the bottom is golden brown.
• Repeat with remaining butter and batter.
• Serve with maple syrup and a dollop of butter or with Nutella!
YUMMMMMM!
Tip: Another easy way to cook up pancakes is with our Smart Living Ceramic Cookware with the Swiss ILAG coating.
See you again tomorrow!
This morning, Chad started the day getting ready for some Stampede fun... Polishing his Calgary Stampede belt buckle with one of our CARBONTuff Cloths (on sale now), and then heading out the door in his western wear. Looking good Chad!
And seeing as we posted about pancakes yesterday, today is all about a pancake dish with a twist! Check out this super fun recipe, put together by Krystlle.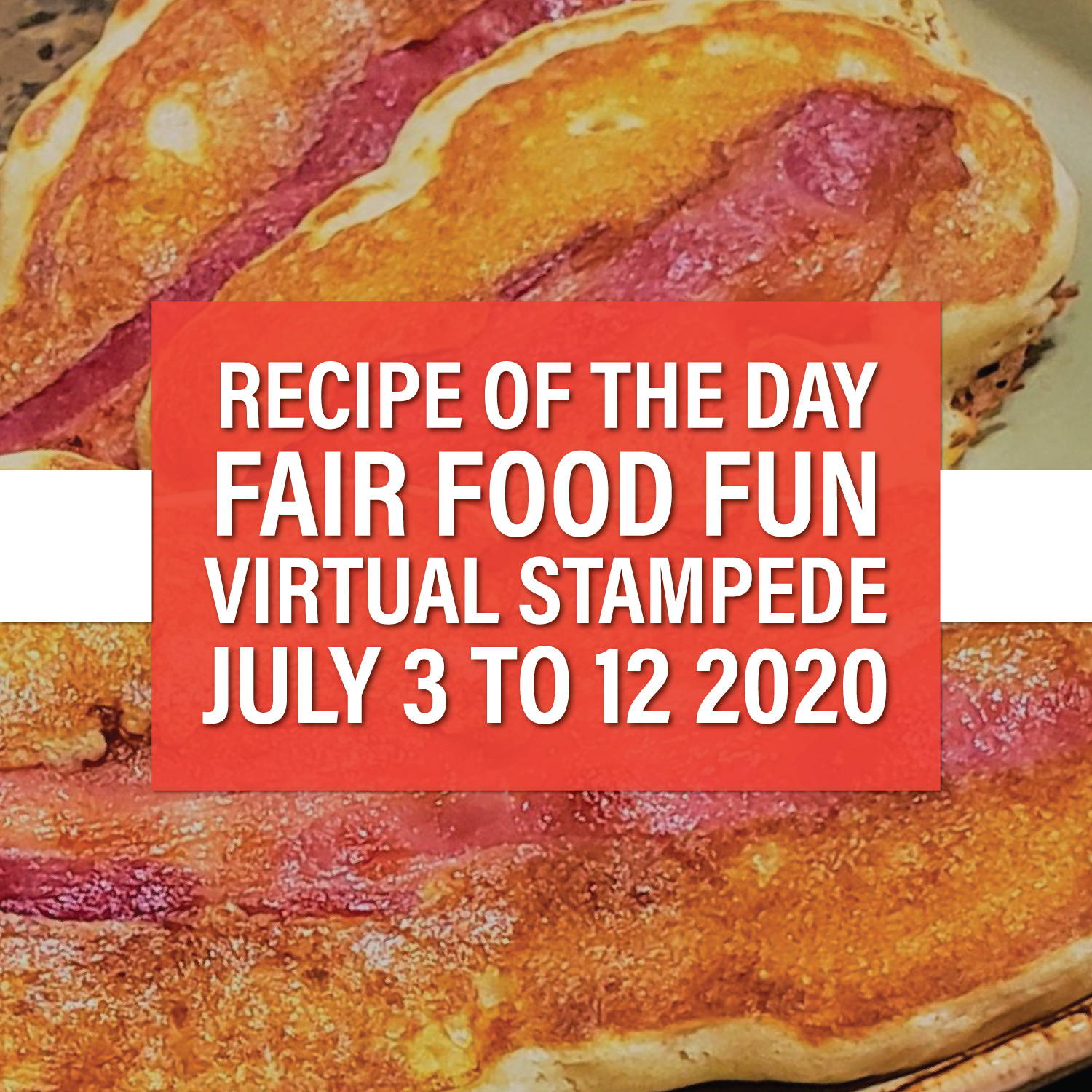 Pancake Bacon Dippers. TASTY!
INGREDIENTS:
• 1-pound bacon (shop your local farmers market for the BEST bacon!)
• 2 cups all-purpose flour
• 2 tbsp baking powder
• 1 tsp salt
• 3 tbsp brown sugar
• 2 eggs
• 1 tsp vanilla
• 1 ½ cups milk
• 5 tbsp butter, melted
• ½ cup maple syrup
• 1-2 tbsp Jalapeno Cherry Bomb Oil (by @OilJefe)


DIRECTIONS:
• Preheat oven to 400°F. Place a wire cooling rack a baking sheet. Lay the slices of bacon on the wire rack. For 1 pound of bacon you will need 2 pans.
• Cook bacon for 15-20 minutes until it is crisp. Set aside.
• In a large bowl whisk together flour, baking powder, salt, and brown sugar.
• In a sperate bowl whisk together the eggs, milk, and vanilla.
• Add the wet ingredients into the dry mixture. Stir until just combined. Add melted butter and stir until just combined. Batter will be slightly lumpy but should be pourable. Add a bit more milk if too thick.
• Heat non-stick frying pan on medium-low heat.
• Place a slice of bacon into the bottom of the frying pan. Scoop ¼ cup batter and pour evenly on the top of the piece of bacon.
• Cook until the edges are set, and bubbles are forming on the pancake (1-2 minutes). Flip pancake a cook for an additional 1-2 minutes, until the bottom is golden brown.
• Stir together maple syrup and Jalapeno Cherry Bob Oil.
• Dip the dippers in the spicy maple syrup!
NOM NOM NOM
Tip: Cook up this dish is with our Smart Living Ceramic Cookware with the Swiss ILAG coating.
Bon appetit!
It's a wonderful day for a Stampede picnic!
Chad began the day for us getting ready for an outing, with a picnic packed in our Flat Stacks Food Storage Containers. It looked so healthy and delicious! If you're curious about Flat Stacks, you can check out our available sets here.
This next recipe is one for the sweet-tooth in all of us! Decadent Elephant Ears, with two ways to finish them off for sweet-eats perfection!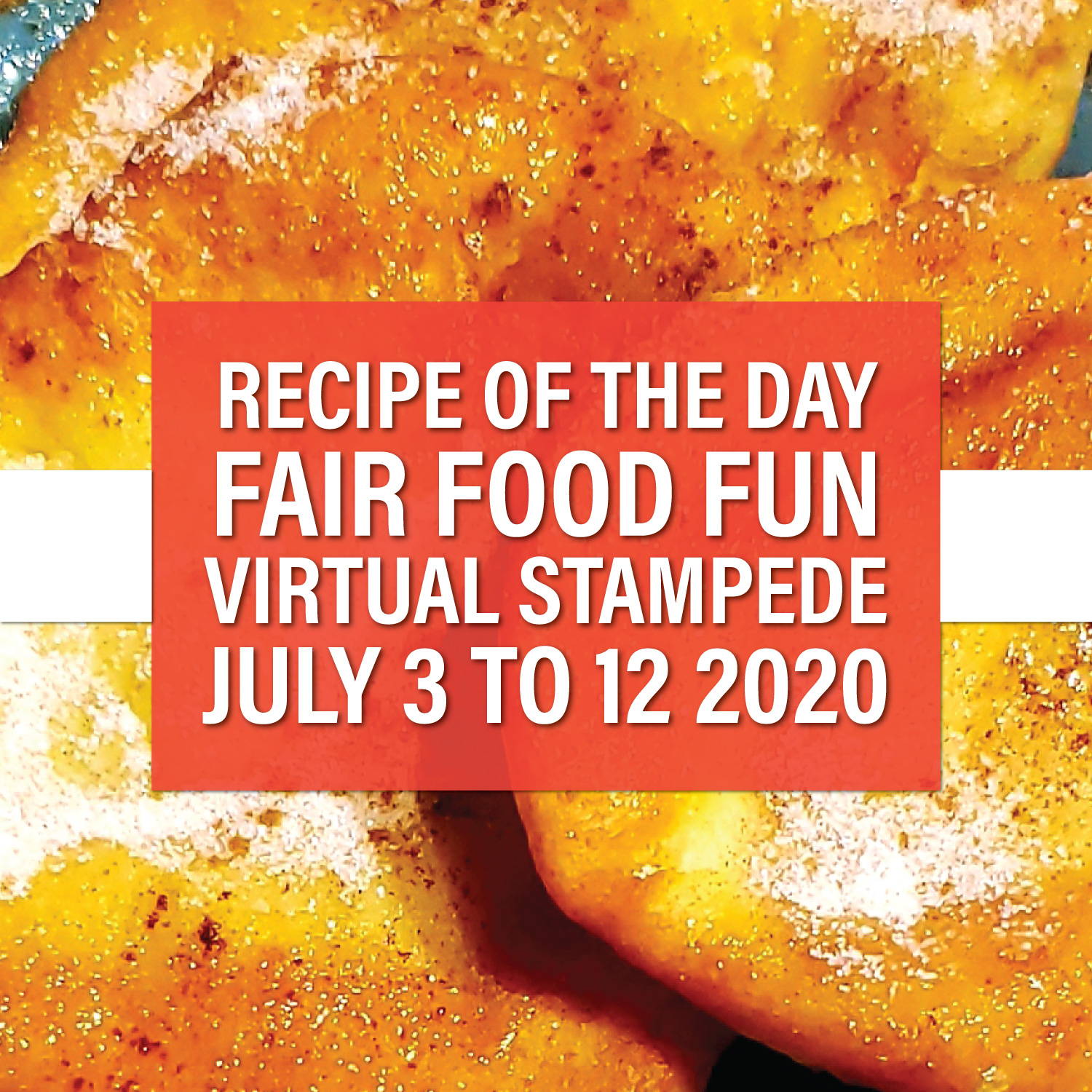 Elephant Ears
INGREDIENTS:
• ¼ cup water, warmed to 110°F
• 2 ½ tsp active dry yeast
• ¼ tsp white sugar
• ½ cup milk, warmed to 110°F
• 3 tbsp white sugar
• ¾ tsp salt
• 1 tsp vanilla extract
• 2 eggs
• 3 tbsp canola or vegetable oil
• 1 ¼ cups white flour
• Oil for deep fryer
• ¼ cup butter, melted
• ½ cup white sugar
• ½ tsp cinnamon
DIRECTIONS:
• Mix warm water, yeast and sugar in a glass bowl. Let stand until the yeast begins to foam; for about 5 minutes.
• Stir in the warmed milk, sugar, salt, vanilla extract, eggs and 3 tbsp of oil. Stir until the sugar has dissolved.
• Mix in half of the flour. Continue adding flour until the dough pulls away from the side of the bowl. You can use a mixer with a dough hook or mix by hand with a wooden spoon. If the dough is too sticky add more flour, 1 tbsp at a time.
• Form dough into a ball and place in an oiled bowl, cover tightly with plastic wrap. Let rise in a warm space until dough has doubled in size.
• Punch down dough. Separate dough into golf ball sized pieces. Roll out to 1/4" -1/8" thick.
• Heat deep fryer to 375°F.
• Add individual dough pieces to deep fryer and fry until golden brown. About 1- 1 ½ minutes per side. Remove from fryer and blot dry with a paper towel.
• Brush cooked pieces with Melted butter and sprinkle with sugar and cinnamon. Or if you are really feeling indulgent top the pieces with whipped cream and caramel sauce!
OH SO DELICIOUS!
We had quite the storm in Alberta yesterday, with a few more on the horizon.
And so, our storms inspired Chad showing us how effective the Smart Living Steam Mop Plus is at getting caked-up mud off of the floors! Check out today's Facebook or Instagram story for some fun videos... want to know more about the Steam Mop Plus and our Virtual Stampede offer? Click here.
And of course, we have today's fair-food-inspired recipe! Krystlle is has shared with us the easiest air-fryer recipe for Mini Donuts (holes)!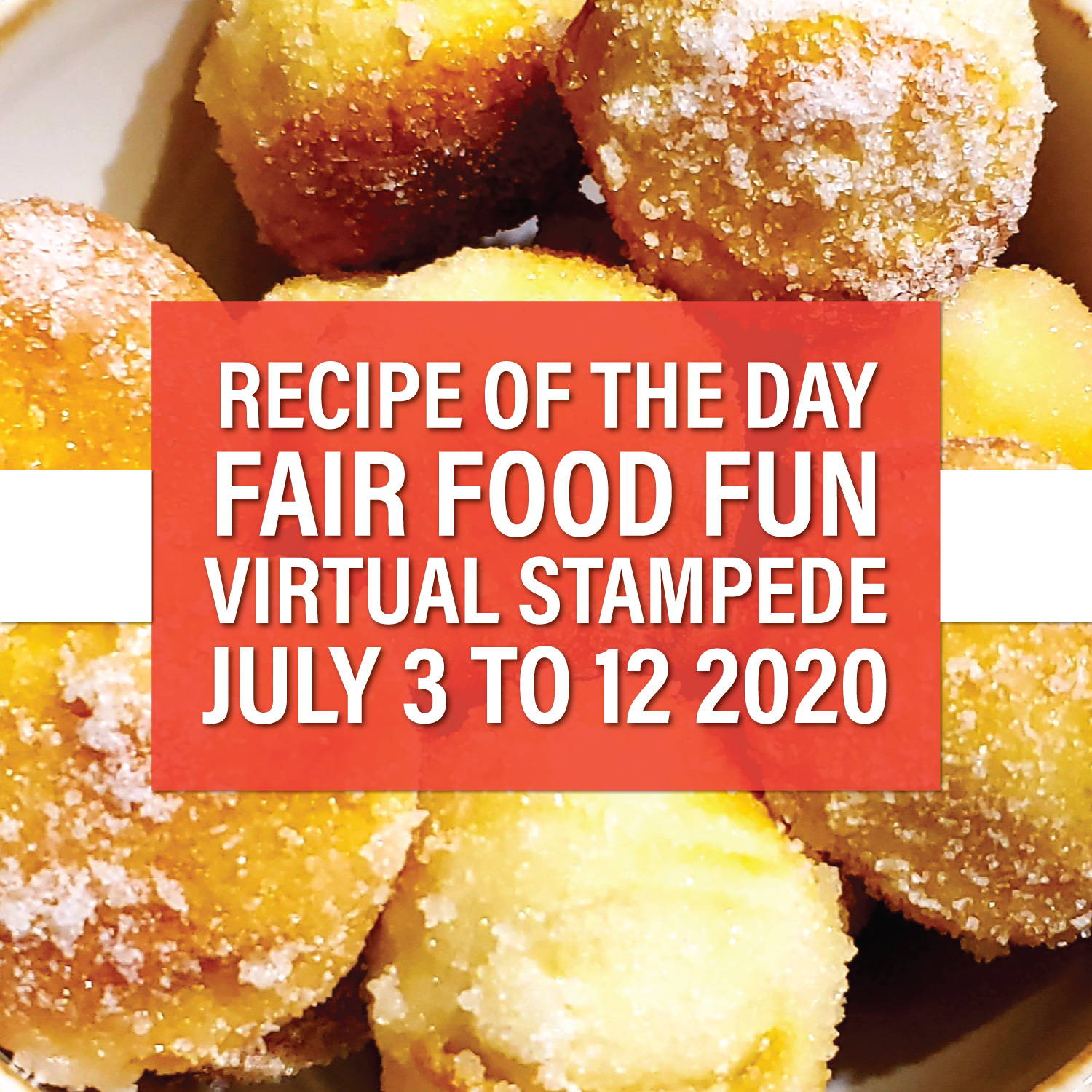 Mini Donut Holes
INGREDIENTS:
• 1 package refrigerated flaky jumbo biscuits
• ½ cup white sugar
• 2 tsp cinnamon
• ¼ cup butter, melted
DIRECTIONS:
• Remove biscuits from the package and separate them onto a cutting board. Flatten each biscuit with a rolling pin, so you are able to cut 2- 1" rounds from each biscuit. Use a cookie cutter or other small round cutter (I used the metal lid of my martini shaker😊). With the leftover scraps- roll together and cut out additional rounds.
• Place multiple rounds in a single layer in the air fryer basket. Leave space around each round. Bake at 345°F for approximately 5 minutes. Or until lightly browned.
• Remove with tongs from the air fryer. Dip in melted butter and roll in cinnamon sugar or plain white sugar (your preference).
• Serve immediately.
TALK ABOUT EASY!!! Thanks again Krystlle!
Stampede time can be tiring. That's why it's so important to ensure through the 'busy-busy', you get a very good night's sleep.
Chad ensured he just had a great night's sleep by using our latest pillow: the ICYBAMBOO Cooling Pillow. The ICYBAMBOO Pillow has Bamboo on one side, Cooling Olefin Fabric on the other, AND even has an adjustable loft to ensure you get you best sleep ever! They've become pretty darn popular, especially with more hot summer nights ahead…
And lastly for today, we have a wonderful summer BBQ'd Burgers recipe! Go on, treat yourself!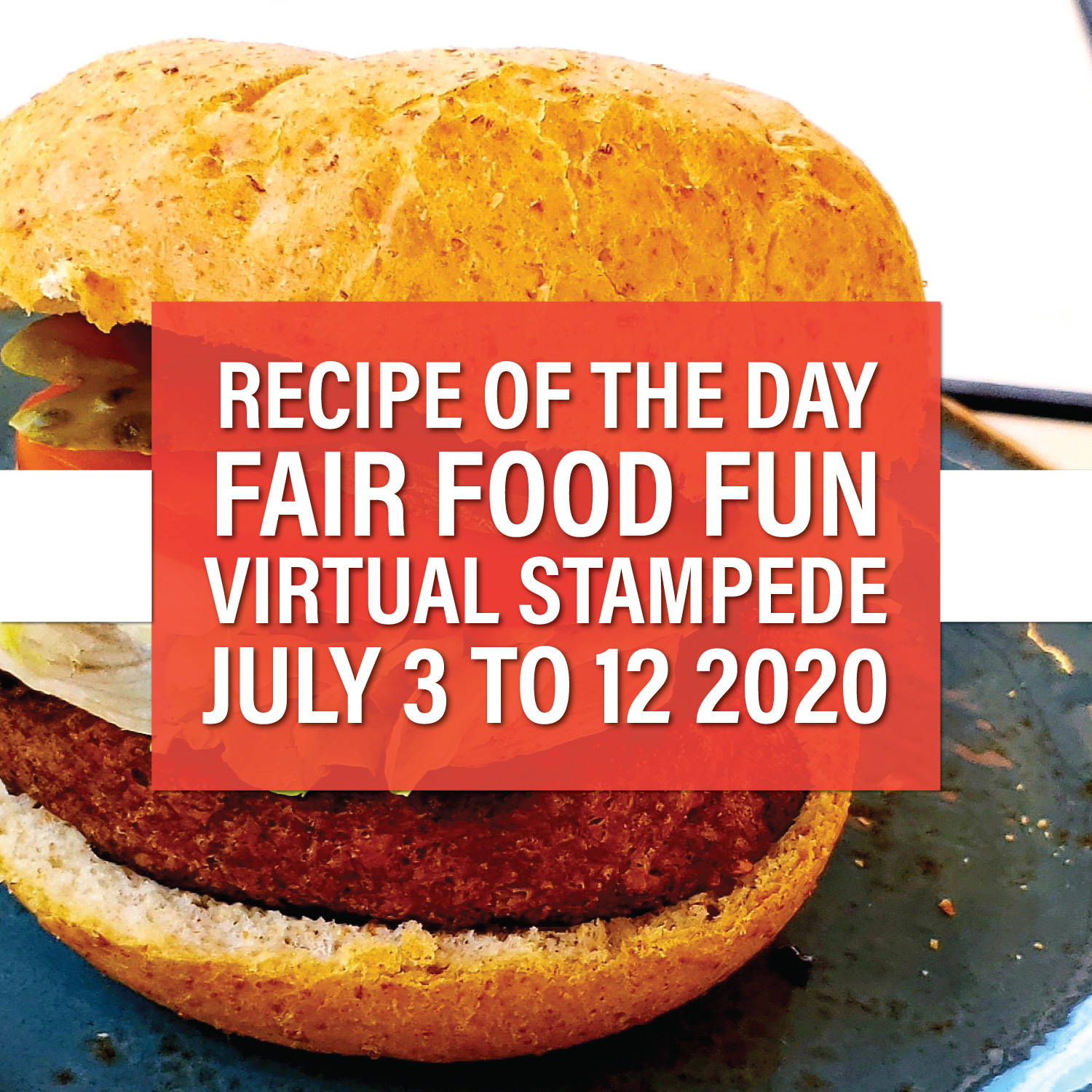 BBQ'd Beyond Meat™ Burgers
Here's a recently popular twist on a BBQ classic – Beyond Meat™ Burgers...
With TWO yummy ways to top them off… mmmm, tasty!!!🤠

INGREDIENTS:
• Beyond Meat™ Burgers
• Buns (whole wheat from your local bakery)

TOPPINGS:
(The possibilities are endless! Here are two combinations to try 😊)
Classic Toppings
Head iceberg lettuce, shredded
Cheddar cheese, sliced
Dill pickles, sliced
Ketchup ( we loved local + award winning Bow Valley BBQ Killa Ketchup @bowvalleybbq)
Southwestern Toppings
Guacamole
Pepper jack cheese
Salsa (fresh is best!)

DIRECTIONS:
▪️ BBQ the burgers as per the package instructions.
▪️ Top your burgers with desired toppings.
• If you are feeling super adventurous, you can make your own meatless burgers from scratch! There are lots of ideas online from: Sweet Potato burgers to Black Bean burgers to Quinoa burgers... We also recommend lightly toasting your buns on the grill, if so desired.

Tip: Grill your Burgers on the BBQ with our Miracle Grill Mats. Designed to reduced flare-ups and to help keep your eats tender and full of flavour!

BURGER TIME!

#recipeoftheday #recipesharing #stampede2020 #easyrecipe #beyondmeat #meatalternatives #veggieburger #vegetarian #healtheireats #burgersarethebest #oceansales #teamwork #tiptuesday #customer appreciation #recipesofinstagram
Virtual Stampede has been a blast so far! But perhaps you've found yourself spending too much time sitting along the way?
If you have, check out today's story on social where Chad explains how he uses the Maxburn Pro II Fitness Plate to elevate his workout at home. He even uses it sitting on the couch to help with circulation after a long day! And believe us, work days on the Stampede grounds can be long ;) !
Besides, it's a great day to burn off some calories so you can indulge in our #recipeoftheday... it's a crowd favourite - the Bloomin' Onion (aka the Colossal Onion).
Bloomin' Onion
Here's an awesome recipe that solves many cravings… Sign us up for this deep fried goodness!!!
INGREDIENTS:
• 1 large white onion
• 2 ½ cups all-purpose flour
• 2 tbsp paprika
• 1 tsp cayenne pepper
• 1 tsp garlic salt
• ¾ tsp oregano
• Salt and pepper to taste
• 2 eggs
• 1 ½ cups milk
• Oil for deep fryer
Dipping Sauce:
• ½ cup mayonnaise
• 2 tsp ketchup
• 1 tbsp horseradish
• ½ tsp paprika
• Salt and pepper to taste
• ¼ tsp garlic salt
• ¼ tsp oregano
• A tiny pinch of cayenne pepper, to taste
TIP: Mix all together, cover and refrigerate for 45 minutes for flavours to develop, before serving.

DIRECTIONS:
▪️ In a large bowl combine flour, paprika, cayenne pepper, garlic salt, oregano, salt and pepper.
▪️ In a second large bowl whisk together eggs and milk.
▪️ Cut a 1/2" from the top of the onion. Leave the root end intact. Remove the paper skin layer.
▪️ With the cut side down on a cutting board - start ¾" from the root and cut vertically down through the onion. Make 8-10 cuts in total around the onion.
▪️ Flip the onion over and carefully open up the cut pieces.
▪️ Dip the onion into the flour mixture. Cover completely. Use a spoon to help fully coat the pieces. Shake off excess flour.
▪️ Carefully dip the flour coated onion into the egg/milk mixture. Spoon egg mixture to get fully coated. Soak for 10 minutes.
▪️ Dip the onion one for time into the flour mixture, spoon flour to fully coat.
▪️ Put the onion on a dish and freeze for 1 hour.
▪️ Preheat deep fryer to 350°F.
▪️ Fry the onion for 5 minutes until it is a golden brown. Turn the onion with tongs and fry for additional 3-5 minutes. Cooking time will depend on the size of the onion.
▪️ Remove your Bloomin' Onion to a paper towel lined plate to absorb the excess oil. Remove from paper towel.
▪️ Serve immediately with dipping sauce.
LOCAL VENDORS: Bow Valley BBQ Killa Ketchup @bowvalleybbq (Krystlle from our office who write this recipe said: "SERIOUSLY, I am switching to this brand😊")
Recommended: Shop your local farmers markets for onions.

😋DAAAAANNNNG! SO GOOD!

#deepfried #deepfriedgoodness #friedonions #bloominonion #colosalonion #yahoo #indulgentrecipe #guiltypleasures
Today has been all about staying healthy and starting the day right. Besides, we have to "make room" for all of the recipes here and today's tasty treat!
Looks like Chad started his day right by drinking a smoothie, with the added health benefits of TurmeriX, and then off for a jog he went! There's nothing like feeling good after some brisk exercise and a healthy breakfast.
TurmeriX is a premium health supplement we have available in soluble powder and capsule form. It is a great way to enhance your health regimen, along with naturally reduce pain from inflammation, promote a healthy immune system and more. Read all about TurmeriX, along with lots of amazing testimonials, here.
And now, onto the tasty treat of the day. What a fun snack for the whole family!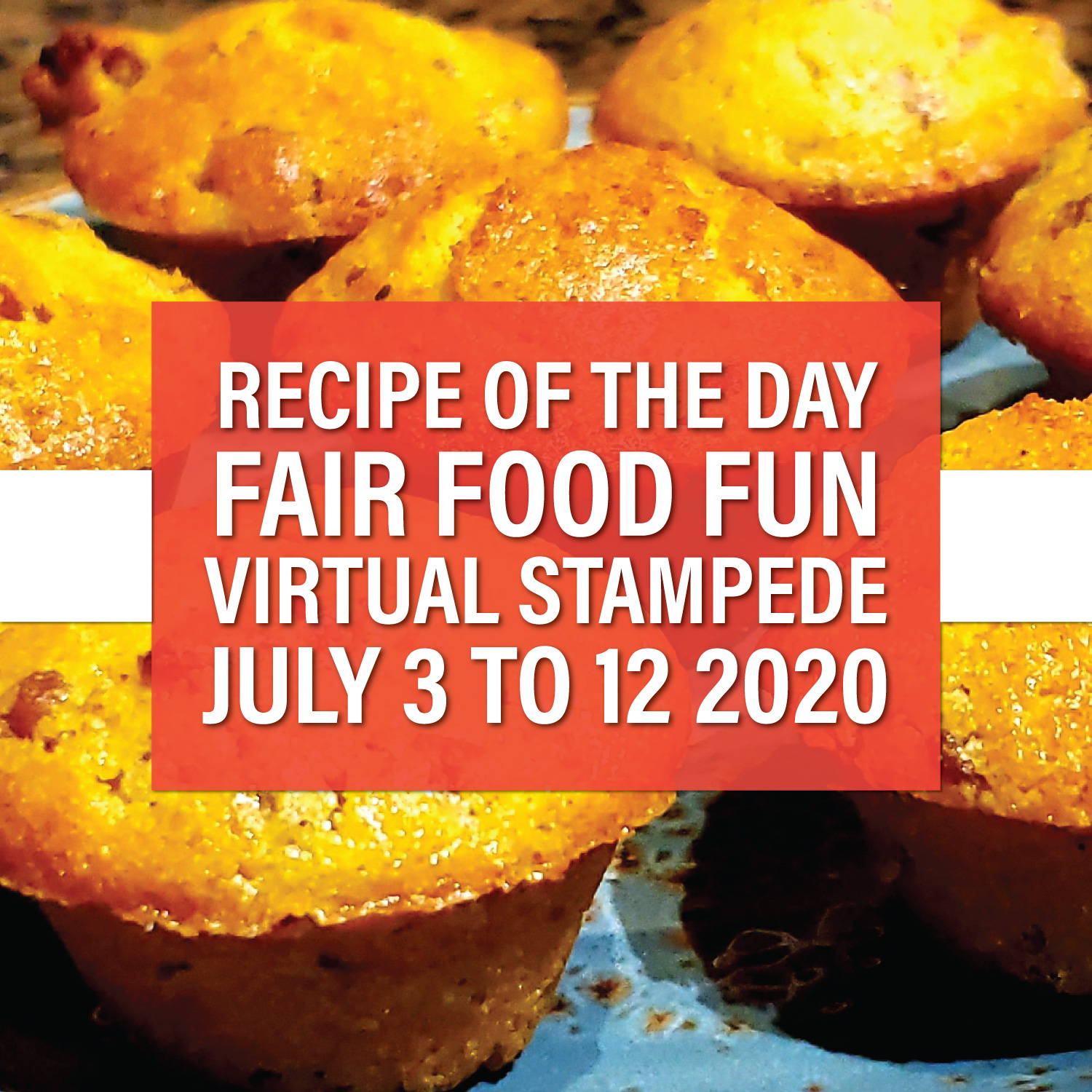 Spicy Mini "Corn Dog" Muffins
😋Here's a unique twist on a fair-food forever classic…
With an alternative below, to make it less spicy and more kid friendly, too!🤠

INGREDIENTS:
2 Spicy Italian Sausages
1 cup cornmeal
1 cup all-purpose flour
½ cup butter, melted
1 cup milk
½ cup white sugar
1 tsp baking soda
½ tsp salt

DIRECTIONS:
▪️ Preheat oven to 375°F.
▪️ Grease mini muffin tins generously with butter.
▪️ Remove the sausages from their casing and fry. As frying break up into small, crumbly pieces.
▪️ In a large bowl whisk together flour, cornmeal, baking soda and salt.
▪️ In another bowl whisk together eggs and sugar. Add in melted butter and milk. Mix well.
▪️ Pour wet ingredients into fry mixture. Stir until well blended.
▪️ Add in cooked sausage bits.
▪️ Fill each mini muffin cavity with approximately 1 tbsp of batter.
▪️ Bake for 10-12 minutes, until the tops are golden, and a toothpick comes out clean.

Note: You can make these kid friendly by swapping out spicy sausages for finely diced hotdogs. Our fave Bow Valley BBQ Killa Ketchup makes a great dipping sauce. For an extra spicy kick, add in diced jalapenos! These mini muffins are also excellent with homemade chili. And best of all, they pack easily to take on a picnic with the kids!
LOCAL GOODS: Our choice is sausages from Spolumbo's - spolumbos.com, also on Facebook)

FEELING HOT, HOT, HOT!

#hothothot #corndogs #hotstuff #spolumbos #yyclife #shoplocal #supportlocalyyc #spicy
It was a TGIF, need to go home and relax kind of theme today!
On social, Chad walked us through how he uses the Casada Quattromed V BT portable massage chair seat at home, and all that it helps him with -- stress, fatigue, sore muscles.... can you relate? If you're seeking something to help with any of these things, on a regular basis, try the Quattromed... It's a small investment you won't regret making!
And now, onto an amazingly delicious recipe today. DROOOOLLLLL.
Easy Alberta Steak Poutine
😋Here's drool-worthy spin on a Canadian Favourite: Poutine…
With delicious Alberta Beef and all of the essential fixins 🤠

INGREDIENTS:
1 bag frozen French fries
2 Alberta beef steaks
Suggestion: source beef from your farmer's market or local rancher
¾ cup white cheddar cheese curds
1 package of gravy mix (make as per package directions)
Steak seasoning to taste

DIRECTIONS:
▪️ Cook fries as per instructions (deep fry, air fry or oven bake - preference is yours!)
▪️ Season steak with your favourite steak seasoning.
▪️ BBQ steaks to desired doneness. Let rest for 5 minutes. Thinly slice steak.
▪️ Plate cooked fries, then top with cheese curds and bite-sized steak slices. Pour hot gravy over top to finish.
▪️ Enjoy!

TIPS: You can easily scale the recipe depending on how large your steaks are or how big a bag of fries you have. If you like extra gravy, make 2 packages.
LOCAL GOODS: Our choice of cheese was from the Springbank Cheese Co. www.springbankcheese.ca (also on Facebook).

Can you feel your mouth water? This dish is goooooood!

#albertabeef #springbankcheese #localisbetter #farmtotable #localranch
Today is all about incorporating more veggies into our nutrition regimens... when we eat well, we feel well. Eating right gives our bodies loads of energy and we definitely need all of the energy we can get during Stampede!
So today on social, Chad is using our TRU-Slice Mandoline to show how easy it is to prepare veggies in style -- including some cabbage (so fast!). It's a super handy and compact slicer, with several attachments, allowing you to slice your produce in multiple ways!
How perfect, because shredding cabbage leads to our recipe of the day: Pulled Pork Sandwiches with Homemade Coleslaw.... Mmm!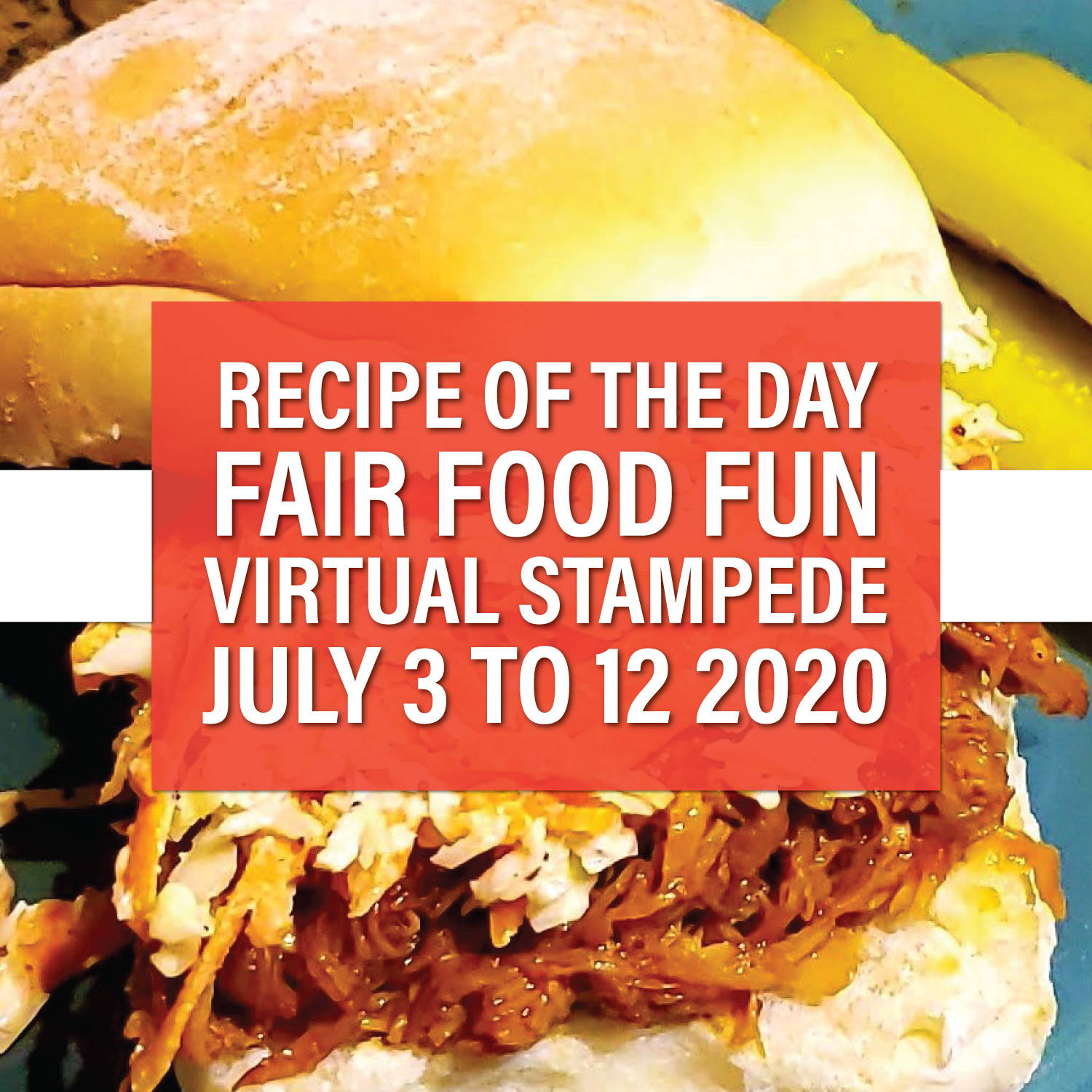 Pulled Pork Sandwiches + BONUS Recipe
Enjoy this yummy recipe for Pulled Pork + Coleslaw Sandwiches
with a BONUS recipe for leftovers!

INGREDIENTS:
2-4 pounds pork butt or shoulder
½ cup water
Bow Valley BBQ Sauce: Sweet Sticky Icky
Salt and pepper to taste

For Coleslaw:
1 small cabbage (green, red or combo of), shredded
2 medium sized carrots, shredded
¼ cup red onion, shredded
½ mayonnaise
2 tbsp Dijon mustard
2 tbsp lemon juice
1 tsp celery seeds
1 tsp poppy seeds
Salt and pepper to taste
You'll also need some bakery-fresh buns!

DIRECTIONS:
For Pulled Pork:
▪️ Place pork in slow cooker. Season with salt and pepper. Top with 1/3 bottle of Sweet Sticky Icky BBQ sauce.
▪️ Cook on Low for 8-10 hours or on High for 5-6 hours. Length of time will depend on the size of the roast.
▪️ Once pork is done, use two forks to shred the pork. Add in another 1/3 of the BBQ sauce (depends how saucy you like it).
For Coleslaw:
▪️ Shred the cabbage, carrots and onion, with our TRU-Slice Mandoline, into a large bowl.
▪️ In a glass jar, shake together: mayo, Dijon mustard, lemon juice, celery seeds, poppy seeds, salt and pepper.
▪️ Pour dressing over vegetables and toss thoroughly to coat.
Assembly:
▪️ Place a generous amount of the pulled pork on a bun, with a good dollop of coleslaw. Serve with dill pickles on the side!

If you have any leftover Pulled Pork, you can make Pulled Pork Perogies!
INGREDIENTS:
1 pound of frozen or fresh perogies (our fave is The Perogy Guy)
Cheddar cheese, shredded
1/3 bottle Bow Valley BBQ Sauce: Sweet Sticky Icky
Sour cream
DIRECTIONS:
• Make perogies as per directions.
• Generously grease a 9x13" glass baking dish. Preheat oven to 350°F.
• Add drained perogies to the baking dish. Mix in BBQ sauce. Top with cheese.
• Bake for 10 minutes or until cheese starts to bubble.
• Top each serving with a dollop of sour cream!

LOCAL GOODS…
Bow Valley BBQ: @bowvalleybbq. The Perogy Guy: @perogyguy
Your local #farmersmarket for uber-fresh veggies + pork
COBS Bakery: @cobsbread - Krystlle likes her local COBS because they support schools. When you mention specific schools at the bakery, a portion of the purchase proceeds goes back to a local school!
😋SO SATISFYING + DELICIOUS!

#pulledporkgoodness #pulledpork #tastybbq #supportlocal #shoplocal #yyclife #farmtotable
Let's celebrate our final day of Ocean Sales' Virtual Stampede with a relaxing sit on the deck, enjoying the view, and alleviating sore feet with the Dr. Ho Circulation Promoter (T.E.N.S. Device with Bonus)...
Sounds like a great way to enjoy part of this evening before the Calgary Stampede Fireworks later on at 11:00 pm MT.
Along with using the Dr. Ho today, we're all about enjoying our final dish on the BBQ tonight! Mexico-inspired BBQ's Street Corn. Soooo fantastic!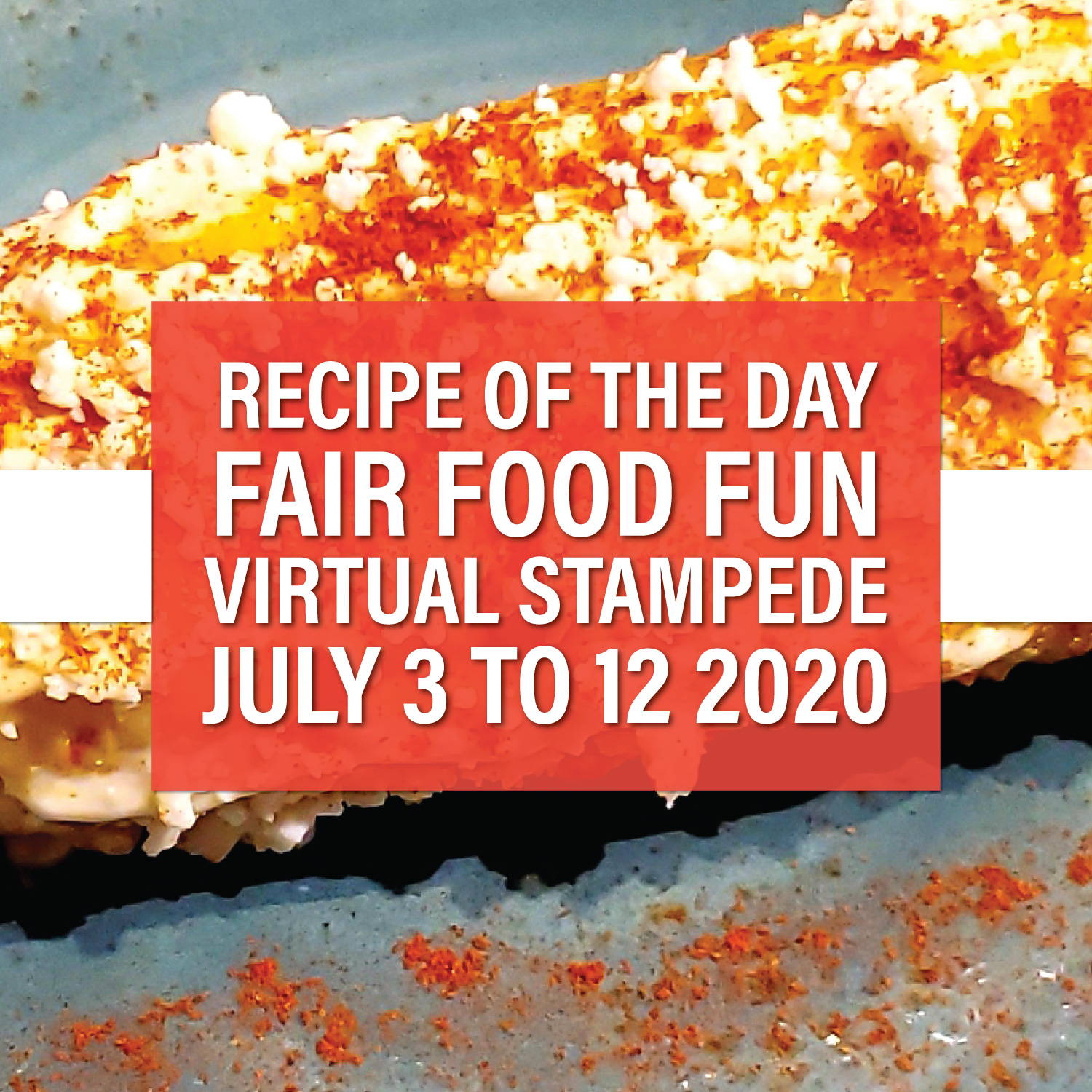 Mexico-inspired BBQ'd Street Corn
😋Our final recipe of our #VirtualStampede… a perfect snack or side dish this summer!

INGREDIENTS:
5 ears of fresh corn
(Taber corn is the best! @townoftaber)
¼ cup mayonnaise
2-3 tbsp sour cream (depends if you want more of a mayo or sour cream flavour)
½ tsp garlic salt
⅓ cup cheese, grated (cotija, feta or parmesan)
1 tsp paprika
Optional: Chopped cilantro or parsley and/or a bit of fresh-squeezed lime juice to finish.

DIRECTIONS:
▪️ Preheat BBQ to 350°F.
▪️ Place the corn directly on the BBQ, cover and let cook for 10-15 minutes. Turn often until cooked.
▪️ In a small bowl mix together: mayonnaise, sour cream and garlic salt.
▪️ Remove cooked corn from the BBQ.
▪️ Carefully smear the spread all over each cob.
▪️ Sprinkle cheese and paprika evenly over the cobs.
▪️ Serve immediately.

😋SO DARN DELICIOUS!

#recipeoftheday #recipesharing #stampede2020 #easyrecipe #oceansales #bbqinspiration
We really look forward to seeing y'all in-person at #Stampede2021. It's gonna be BIG!
Until next year, YAHOOOOOOO!