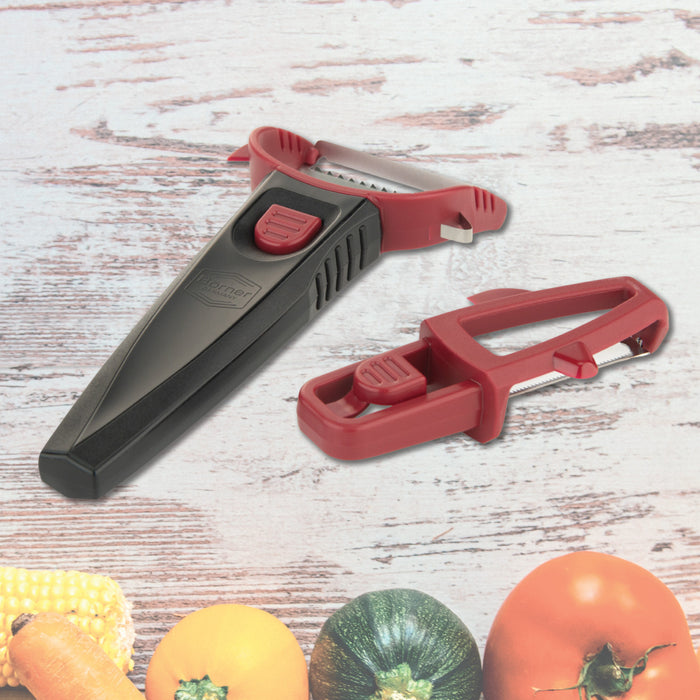 Regular price
Sale price
$30.00 USD
Unit price
per
Sale
Sold out
Share
Description

THE PERFECT COMPANIONS TO YOUR BORNER ACCESSORIZED KITCHEN

Be a master in your kitchen with another exceptional kitchen tool from Borner.

Introducing the Ultimate Kitchen Peeler Set: Versatile, Convenient, and Perfect for Both Left and Right-Hand Users.

Upgrade your peeling game with this high-quality kitchen peeler set! Designed with functionality and precision in mind, this set includes a Y-Peeler and a Straight Peeler, as pictured in the main image, featuring an interchangeable detachable grey handle. Get ready to experience effortless peeling like never before...



Here's what makes the German-made Borner multi-peeler stand out:


Unmatched Sharpness: the blades are made of premium stainless steel, ensuring extreme sharpness and durability. These blades glide through fruits and vegetables with ease.

Detachable Grey Handle: The convenience of this peeler set is taken to the next level with the detachable grey handle. Easily switch between the Y-Peeler and the Straight Peeler, adapting to your specific peeling needs.

Versatile Functionality: The Y-Peeler is equipped with a julienne blade, allowing you to create matchstick julienne slices effortlessly. It also features a groove cutter, V-knife, and peel cutter, making slicing citrus peels so easy! Then, the Straight Peeler is perfect for handling hard fruits and vegetables. It also includes a potato blemish remover and a peel cutter for citrus peels.

Ergonomic Design for Everyone: Thoughtfully crafted and designed to cater to both left-handed and right-handed users. The practical shape and form ensure a comfortable grip and easy maneuverability, regardless of your dominant hand.

Cleaning up after peeling has never been easier. Simply rinse the peelers under running water, or rinse them in warm soapy water, and they're ready to be used again. Get yours today and never buy another peeler again!





Straight Peeler Dimensions: 17cm x 4cm x 2cm / 6.5" x 1.6" x 0.75"


Y Peeler Dimensions: 15.5cm x 6.75cm x 2.5cm / 6" x 2.6" x 1"
View full details